Northeast
2963 Miles
There were three of us for 1994. We went up to the Northeast for the first time. Our good friend Mike joined us this year. Mike bought a 1979 Yamaha XS11 Special for the trip. This was also mine and Steve's first major ride with our new bikes.
Day One - Cincinnati to Gettysburg, Pennsylvania
We started out kind of late with our sights set on Gettysburg. We headed up to Columbus, and got on I-70 and headed east. At U.S. 30 we began our southern bend toward our destination. We arrived in Gettysburg at dusk, and began the difficult task of finding an affordable motel. It was not long before we determined an affordable motel was out of the question, and found a cheap motel that was not inexpensive. Mike's bike had been running rough, so we found some spark plugs and Steve and I watched Mike change his plugs. After this exercise we hooked up with a couple staying next door, and we rode into town with them. After touring several drinking establishments we retired to our room. The next morning we did not exactly get up with the roosters, so we bypassed the tour of the battlefield, and decided to get moving.
Day Two - Gettysburg, Pennsylvania to N. Adams, Massachusetts
Traveling east on U.S. 30 was painful. With some slight headaches, and Mike's bike still not running quite right, we made less that great time. At Lancaster, we joined up on U.S.222 toward reading, and Allentown. The road was getting a little better, as were our hangovers. A quick jog on St.Rt. 33 led us to East Stroudsburg. There we ran along the Delaware River and into New York at Port Jarvis on U.S. 209. We headed north on I-87 toward Troy. Soon we found we were in the traffic going to Woodstock for the 25th anniversary of the festival. Once in Troy we went due east on St.Rt. 2 and into Massachusetts. As darkness fell on us, we found a decent motel in N. Adams.
Day Three - N. Adams, Massachusetts to Portland, Maine
Mike had filled up with Premium gas late the night before, and as we started this day, his bike began to run like it should. St.Rt. 2, called the Mohawk Trail from N. Adams to I-91 was very pleasant with great scenery. We stopped at Mohawk Trail State Forest overlook to snap a few pictures. We were finally beginning to make some time, and put a few miles behind us. Maybe it had something to do with N. Adams not having any local spots. We blasted up I-91 through Vermont and exited at St. Johnsbury. We back tracked back south and got on U.S. 302. This turned out to be fantastic road. On this road between Willey House, and Bartlett Mike spotted a watering hole with a number of generation X'ers having a good time soaking up the rays, and sliding through a series of natural rock slides. At first Steve and I were a bit apprehensive at stopping, but after we were there a few short minutes we knew Mike had made a good call. After probably two hours we bid our new found friends adieu and continued east. We followed U.S. 302 into Portland, and found a great inexpensive motel for the night.
Day Four - Portland, Maine to Coobscook Bay, Maine
Leaving Portland early the next day we began traveling north on U.S.1, the coast road. As we gazed out to the Atlantic Ocean and Penobscot Bay the coastline mesmerized us. We stopped for lunch near Belfast, and had our first of many great lobster dinners. Continuing on U.S. 1 through Ellsworth we headed for Bar Harbor where we stopped for a brief tour. We investigated the possibility of taking the ferry to Nova Scotia, but the cost was prohibitive. We were already spending more on motels than we had budgeted. This led Mike to lobby for us to camp. He had brought his tent and sleeping bag just in case Steve and I had a change of heart. We originally had no intention of camping. Once again Roy Boy (Mike) was right. We found a secluded camp spot in Coobscook Bay State Park. The park was practically deserted. We settled down and camped after another great dinner at Helen's in Whiting.
Day Five - Coobscook Bay, Maine to Bangor, Maine
The day began as we went over into Canada to see Roosevelt Campobello International Park and the largest whirlpool in the Western Hemisphere. Once there we took the ferry over to Deer Island and then on to St. Andrews. We trekked over to St. Stephen for lunch, and crossed back into the U.S. at Calais. After some border crossing misunderstandings we were back in the USA. We headed back toward Bangor on St.Rt. 9. The great scenery continued, but we were finally caught by some thundershowers. Another good, fairly inexpensive motel was waiting for us at Bangor. This place even had a washer and dryer so we did some laundry.
Day Six - Bangor, Maine to Passaconaway, New Hampshire
We started the day by driving by Stephen King's home (mansion?). U.S.2 took us back west toward New Hampshire. At Conway we headed south on St.Rt. 16. About 10 miles onto this road we stopped at another watering hole in the White Mountain National Forest. This hole was much more crowded, and lacked the charm of the first one. We then decided to ride up Mt. Washington on our bikes, but the visibility was less than a mile, so we chose to continue riding. At Center Conway we turned west on St.Rt. 112, otherwise known as the Kancamagus Highway. I had read an article about this road in Rider magazine. The article was right; the road was fabulous. Tight twisties, good pavement, and plenty of scenery were abundant. We found a good camping spot near Passaconaway.
Day Seven - Passaconaway, New Hampshire to Lake Placid, New York
Continuing on St.Rt. 112 to start the morning was a real treat. Just before we crossed the Connecticut River we joined back up with U.S. 302 near the Vermont State line. This road was as nice in Vermont as it was in New Hampshire. As we got to Burlington we decided to take the ferry across Lake Champlain to New York. It was a fairly large ferry so we only had to wait a short time, and boarded the first one we saw. The boat was large, but the first mate (not Gilligan) told us to tie the bikes down or at least put them on their center stands. We were glad we took his advice. As the ship pulled away it jerked the bikes roughly. After landing in Port Kent we headed toward Saranac Lake on St.Rt. 86. The Adirondack Mountains provided some nice vistas as we rolled into Lake Placid. We spotted some small cottages along St.Rt. 86, and stopped to inquire. The older couple who owned the place gave us a good deal so we decided to stay. The old man was a former biker, and we chatted for awhile. We went into town for dinner, and as we were returning it began to rain. When we got back to the cottage we began to cover the bikes. Our newfound friend came out, and offered his garage for the bikes. How nice!
Day Eight - Lake Placid, New York to Ashtabula, Ohio
The next morning it was still raining, and a cold front had moved in. St.Rt. 3 took us down to Watertown, and I-81. It was a tense, and cold ride in what would have been a great road to cruise. It finally cleared up around Syracuse, but the cold remained. We only made to northern Ohio before we decided we were not going to make it home so we stopped for the night.
Day Nine - Ashtabula, Ohio to Cincinnati
All interstate, not much fun.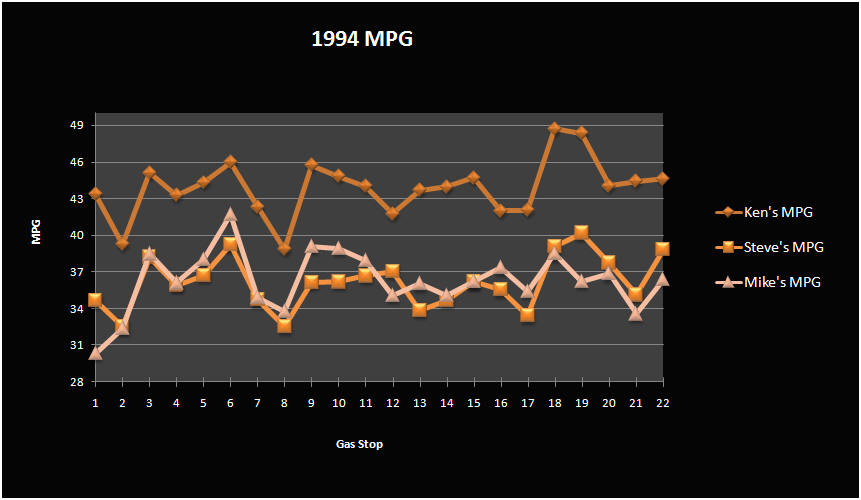 Email me Ken Adams

Home