Southeast
2354 Miles
We cruised the Shenandoah Valley, The Great Smokey Mountains, and Northern Georgia. It wasn't going to be one of our longer trips, but there was a lot to see.
Day One - Cincinnati to Fayetteville, West Virginia
We got a late start due to Steve's leaky radiator problem. It turned out fine because we made our target destination right at supper time. Any earlier, and we probably would have rode onward. Our spot was directly underneath the U.S. 19 New River bridge, the one where people bungee jump, and commercials are made. We left Cincinnati and got on the "AA" highway in northern KY, and headed east. The double A is big two lane road with plenty of passing lanes placed strategically throughout the length of the road. The death rate on this road baffles me, there are no corners, and huge shoulders. After the double A we jumped onto I-64 until we got through Charleston WV, once through we ran on U.S. 60 until we crossed U.S. 19. Once we found the bridge we stopped at the visitor center on the north side of the bridge. There we found a detailed map, and figured out the road to the left (traveling north) was the one that would take us down to the river. On this road we passed the Class VI outfitters, where we would later have dinner (and breakfast). When we reached the river there was the entrance to the old U.S. 19 bridge, and a perfect camping spot. We set-up camp, went back up the hill, ate and got some beers. That night we got out in the river to wash off the day's ride and called it a night. Ohhh, I almost forgot; on the way back to the tent (50 feet?) I tripped and fell and split open my knee. It had nothing to do with the beer. A stop at Revco in the morning, and I was as good as new.
Day Two - Fayetteville, West Virginia to Winchester, Virginia
After my first-aid was complete we continued east on U.S. 60. At Covington, VA we stopped for lunch. We bid farewell to U.S. 60 and headed north on U.S. 220 toward Monterey, VA. Both of these roads were in good shape the majority of the time. At Monterey we headed west back into West Virginia and north on U.S. 250. Another good road in the WV mountains. As we headed further north we began to get out of the mountains, and the scenery progressed to gentle rolling hills. We crossed into Maryland for a brief time before turning east on U.S. 50. This took us back into Virginia, and left us at the door step to the Shenandoah valley. We could have ridden further but Winchester is a nice rustic town, where we thought we might get some good grub, and a little history. We ate at the Cork Street Tavern, a spot that has been around since the Civil War.
Day Three - Winchester, Virginia to Roanoke, Virginia
We got an extra early to start out on Skyline drive. The ride to Front Royal was rather dull, but this was certainly due to the anticipation. Once in the park, we were tempted to stop at every turn to snap a picture. The road through Skyline Drive is perfect (when there is no traffic on it, which is rare). For the first several dozen miles we were unencumbered by other motorists, but as the day wore on, the RVs came out. After one camera stop we did see a black bear on the side of the road. When we got to Waynesboro we jumped off Skyline, and cruised over to Charlottesville for lunch. I had read where U.S. 29 was a decent road, chocked full of history, so we headed south on that with our sights set on Appomattox. While we typically do not do much formal sightseeing on our trip, we had a feeling this would be worth a stop. It was; although we only stayed a short time, I think we were both happy to have seen the courthouse where Lee surrendered. After our tourist thing, we headed west on U.S. 460. We stopped for gas in Bedford where Steve's bike had some rear brake problems. Not wanting to go to far without repair, and a threatening sky, we limped on down to Roanoke for the night. We found a motel right across from a K-Mart. With one trip to the hardware section, his bike was ready to go for the next day. Who says Jap bikes can't be worked on?
Day Four - Roanoke, Virginia to Highlands, North Carolina
With the presence of rain all around we jumped up on the Blue Ridge Parkway. This road is probably a little better than Skyline Drive. A little more twisting, and higher altitude. I speak from previous experience, because on this day we could barely see five feet in front of us. Our first really bad weather in four years of trips. As we limped down the road, we decided to get off into lower altitudes and check out Mt. Airy, NC. This is where Andy Griffith is from, and his show is loosely based on this town. The town has a cottage industry of Mayberry memorabilia. We saw Floyd's barber shop, and ate at the Snappy Lunch. The rain situation was much better here so we decided to go back up to the Parkway. We raced down I-77, headed west on U.S. 421. At Deep Gap we got back on. Shortly afterwards we got rain again. Just before Ashville the rain stopped, and we packed away our rain gear for the day. As we got close to the end of the Parkway we exited onto U.S. 276 for a short while before we headed west on U.S. 64. Going west on U.S. 64 we began hitting allot of what looked to be summer homes. U.S. 64 provided nice scenery with well conditioned roads. As it started to get late we came into the town of Highlands, NC. A nice looking older motel with a good looking restaurant across the street hooked us. After we made accommodations we walked across the street to eat. When we ordered we were told they could not sell beer. Before we panicked too much we convinced the waitress to let us bring in our own. All restaurants should be like this.
Day Five - Highlands, North Carolina to Bryson City, North Carolina
The day began heading west on U.S. 64 we were back into the foothills. We headed south on St.Rt. 75 just east of Lake Hiawassee in Georgia. Only a few miles into the state we turned onto St. Rt. 180, otherwise known as Wolf Pen Gap Rd, that took us to Brasstown Bald, Georgia's highest point (4784ft.). St. Rt. 180 was actually a real nice road. It had very tight turns, most of them blind, but we did not see another car until we reached the parking lot at the visitor's center (and then there was only a handful). After a few scenic moments we were back under way. St.Rt. 75 led us south to the small town of Helen, GA. This town is a picture out of Bavaria, we didn't stop, but the town sure did look worth exploring. When we got to U.S. 129 we went west, and at the corner of U.S. 129 and U.S. 19 we had lunch. The place was called Turner's Corner Restaurant, I read about it in a Rider magazine article. They have the state's record largest bear stuffed in the dining room. A local pick-up ran into it, and had it stuffed. The restaurant was a couple ticks better than a truck stop. The best part was we experimented with our newly learned skill of negotiating with the restaurant to allow us to bring in our own beer. It worked again! I think were onto something. After lunch we proceeded north on St.Rt. 60 through the Suches area. This is touted is one of the best motorcycle roads east of the Mississippi. It proved to be! Twenty Eight miles of the most wonderful road I have been on. Tight left and right twisties, big sweepers, everything but straight. When we got to Morgenten I had to get off the bike and calm my nerves. A brief trek on east U.S. 76 brought us to St.Rt. 5 where we headed north toward Tennessee. When we got to McCaysville they were preparing for the Olympic torch to be brought through later in the day. At McCaysville they would conduct the kayaking portion of the Olympics on the Ocoee river. In Tennessee the road turned into St. Rt. 68. Turning north on U.S. 411 we were positioning ourselves for a run down the Foothills Parkway. With a brief turn on east U.S. 321 we turned south on the FH Pkwy. This Parkway is very similar to the Blue Ridge Parkway. Speeds were higher on this Parkway, and in no time we were at the end. South on U.S. 129 took us back into North Carolina. U.S. 129 starts out rather tame, some twisties but nothing like what is about to come. Just before the NC border you come upon what is called the Dragon's Den. This stretch of road has 319 curves in just eleven short miles (see map). I absolutely had the time of my life on this road. We don't have the right bike for this road, but let me tell you I can scrape the pegs fairly well. You have to get in a trance to run this road as fast as you can. At the end of the twisties is the town of Deal's Gap, NC. We went in and got the t-shirt to prove we rode it. FANTASTIC!!! Shortly after that we came into Bryson City on St.Rt. 28 where we found a nice motel and stayed. We were only several mile from where we began the day. We had dinner in town, and tried to talk them into the beer thing, but it did not work this time (loosing our touch?). The Scenic View Motel, on St.Rt. 28 had just that, and a nice front porch to enjoy it on.
Day Six - Bryson City, North Carolina to Pikeville, Kentucky
As we left Bryson City we stayed on St.Rt. 28 through Cherokee. A neat little town, but perhaps too touristy. At Cherokee we turned left to enter the Great Smokey Mountains Nat'l Park. The park road took us into Tennessee, and past Clingmans Dome and an elevation of 6643 ft. As we started down the mountain we hit rain again. The rain followed us into Gatlinburg where we gassed up, and put on the rain suits. At Gatlinburg we headed north on U.S. 321. This road is marked scenic, but I did not see much worth a second look. We jogged over to U.S. 25 at Newport, TN on I-40. U.S. 25 would take us back into North Carolina where we hooked with St.Rt. 212. St. Rt. 212 is a newer road, in great condition with a fair amount of twisties. In a few brief moments we were back into Tennessee headed north on U.S. 23. At Johnson City we would take St.Rt. 97 around Lake Watuga toward Mountain City, TN. The ride around on of the smaller TVA lakes is a real joy. A number of nice sweepers, with good vision, sprinkled with some twisties. We stopped to visit some of our relatives in Mountain City. Leaving Mountain City we rode on St.Rt. 91 towards Damascus, VA. This is a road I have traveled many times in visits here. The road runs along side Laurel creek, and provides excellent, well kept roads with great scenery. In Abington, VA we hooked up with U.S. 19 and rode north for a little bit before heading west on U.S. 460. These are the foothills of the Appalachian Mts. where a lot of coal is mined. Wherever coal is mined you can find coal trucks, and roads that are in disrepair. The scenery here is pretty nice, but the trucks, and roads make it less than fun. We crossed over into to Kentucky, but had to ride to Pikeville to find a motel. After a fairly long day we ate a quick bite, and crashed.
Day Seven - Pikeville, Kentucky to Cincinnati
We got up and rode straight home. The Coombs Mountain Parkway is nice for what is basically an interstate. Quickly onto I-64 to Lexington, and a blast up I-75, we were home by lunch.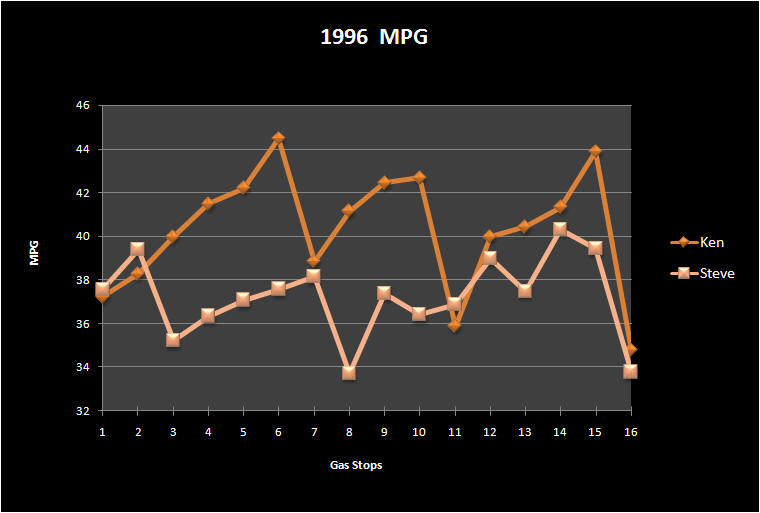 Email me Ken Adams

Home