Glacier National Park
4577 Miles
This was to be our last year on a road trip. Next year we will take to dual sport cycling in Colorado, so we wanted to make certain our last trip was a major one. We decided to head west again and further explore the great state of Montana. Our primary objective was Glacier National Park, but as always the trip there and back was of equal importance.

Day One - Cincinnati to Lincoln, Nebraska (838 miles)
This was the furthest the two of us had ridden together in a day. We started at 7:00a.m. Saturday morning from my house, and made it to St. Louis on our second tank of gas before lunch. We fueled up in Warrenton MO and grabbed a quick bite. Shortly after leaving with our third tank of gas in our bikes the skies turned dark, and we quickly stopped to put our rain suits on. The damp conditions would stay with us until we hit our destination for the night. Fortunately there were not any terrible heavy downpours. The rain was constant but without strong winds, so we rode, and rode. We pulled into Lincoln shortly before sundown for the night.

Day Two - Lincoln, Nebraska to Sundance, Wyoming (616 miles)
Nothing is worse than starting out at 7:00 a.m. with your rain suit on. This is how our day started on Sunday. After diligently checking the Weather Channel before we left, we felt that once we started heading north after we got off of the interstate at Ogallala NE we might get out of the rain. So we headed through the rain heading west on I-80 as fast as we could. Nebraska's 70 mph speed limit helped in this regard. The doppler radar was right, we finally began to see clear skies as we headed northwest. We stopped in Bridgeport NE for gas and removed our rain suits. Sixty-one miles left to ride in Nebraska and we just took our suits off. We talked about how for years to come we would not look favorably upon our first trip through Nebraska due to the rain. I thought this was unfair because Nebraska seemed to have its charm, particularly in the western portion of the state. This turned out to be true as we began to approach Wyoming. Off in the distance sat Chimney Rock an impressive looking formation that told us we were nearing an end to the prairie. As we headed into Scottsbluff we saw the we could see Scotts Bluff National Monument off to the west. Once into Wyoming we stayed on U.S. 26. After Torrington, WO we found a rest stop along the road where we stopped to further dry out. Turning north on U.S. 85 we were beginning to get close to our destination for the night; Devil's Tower. After gassing up in Lusk we spotted a place for a burger and a brew. This place (the name of which escapes me) was a bit run down. But they served up a juicy burger that was quite good. These people were ready for the big Sturgis event the following week. They told us they're year is made in the couple of weeks surrounding Sturgis. We stopped for the night at the Sundance Mountain Inn in Sundance WY. There we met a nice couple from Niagara Falls Ontario. Jim and Virginia were riding a 1989 Gold Wing through the western states, and were on they're way back home. Jim told us we may want to try staying in Chouteau Montana, there were some nice motels there.

Day Three - Sundance, Wyoming to Choteau, Montana (586.3 miles)
Finally, a day without the prospect of rain (at least for now)! We started out on U.S. 14 that led us to St. Rt. 24. This road took us right past Devil's Tower. The roads leading to the tower were in decent condition, and provided nice scenery. One can actually see the tower on a clear day about 10 miles away. After the 10 minute stop for photos we felt we could proceed. What else is there to see? It's a big rock! We turned north and headed up St. Rt. 112 that would take us into Montana. For the approximately 25 miles we rode on 112 we literally did not see another human until we reached U.S. 212 in Montana. The scenery, especially along the Little Missouri River, and the emptiness was wonderful. The road was not that great, it recently been repaired, but the repair job left a little to be desired. Once we reached Alzada and turned right on U.S. 212 we found ourselves in the middle of some major construction. The road was completely torn up, and we had to ride several miles on the gravel. By the time we reached Broadus for gas the road construction looked to complete. The landscape had changed dramatically in the last one hundred miles. We were now in what looked to be the prairie once again. When 212 ended at I-90 we jumped on the Interstate to Billings. There, we headed due north on U.S. 87. Although Rand McNally does not mark this road as scenic it truly was. The road was fairly twisty and in great shape. It had been so long since we were in any curves the bikes did not know how to act. Our next gas stop at Lavina was absolutely in the middle of nowhere. We were now headed west on U.S. 12, this was to take us to U.S. 89 and on towards Great Falls. However, as we got closer to U.S. 89 we saw huge rain showers in the distance. We quickly searched our maps for an alternate route. There it was; if we could head north on U.S. 191 we might make it. In Harlowton we put our suits on and headed north on U.S. 191. We were flying along trying to stay ahead of the storm. Just when we thought we had it licked we were low on gas. We met back up with U.S. 87, turned left and headed west again. We stopped at Stanford for gas. As we were filling up the rain began, I did not even get off of my bike. Steve went in and paid for both of us and off we went. Just as we got through Great Falls we got drenched again, fortunately we were on I-15 so it was not too bad. We got into Choteau wet and tired. The Big Sky Motel was an excellent find, nice room, two beds, $30.00.

Day Four - Choteau, Montana to St. Mary, Montana (353 miles)
As we enjoyed our adult beverages, and ate dinner from the local gas station/sub shop we met a couple from St. Paul on their roundabout way to Sturgis. They told us of all the good roads in and around the park. They completely rerouted our trip into the park, and I'm glad they did. First we traveled south on U.S. 287. This road is in very good condition. This particular stretch of road was through the tableland; we would ride high up on a mesa, and then dive down into a small valley, ride back up the next mesa and continue the process. We turned and started heading south and east on St. Rt. 200. This road was another fabulous road in good condition full of mesas and valleys. We stopped as we passed over the Dearborn River. As we were enjoying the scenery we spotted a bald headed eagle overhead. As we continued down the road we skirted around the southern portion of the Lolo National Forest. We turned north on St.Rt. 83 through the heart of Lolo National Forest and ran directly for the west entrance to the park. This road was scenic as well. We passed several picturesque lakes, and stopped at one for a break (Seeley Lake). Once north of Swan Lake the scenery turns to flat, more populated land. We bypassed Kalispell and went into the park. Glacier has a speed limit of 35mph, so we took off our helmets and just cruised through the park at a very leisurely pace. Turn after turn of simply breathtaking beauty. The "Going-to-the-sun" portion of the park, which is towards the eastern part of the park outdid the rest of the park. Once we got through the park after about three hours of riding only 53 miles we stopped at the eastern entrance in the town of St. Mary. We decided we would get a room in St. Mary and go up into Alberta to explore Waterton Lakes National Park. It would have been a nice little 120 mile roundabout before dark. It was not to be; just as we got to the border the skies opened up on us. The rain started as a drizzle, but before we made it back we got zapped. It poured so hard the park service had to close the western entrance to the park the next day. After dinner at the local café (we walked from our room) the rain had stopped. We walked down the hill to the local tavern and had a brew.

Day Five - St. Mary, Montana to Culbertson, Montana (591 miles)
I did not think we would spend another night in Montana. We ended up doing our little 120 mile loop before breakfast. We went up into Alberta to check out Waterton Lakes National Park. It was pretty much the same as Glacier. We made one stop in the park and continued on. We drove back through St. Mary going south on U.S. 89, but side tracked on St. Rt. 49 towards East Glacier. This road was quite a bit torn up but offered some fantastic views; as good as any in the park. Once in East Glacier we traveled back west on U.S. 2 just to see what lie ahead. At the T. Roosevelt memorial we decided we had better make some tracks east before we ran out of time. We stopped for a buffalo burger back in East Glacier, and then headed east on U.S. 2. The road between East Glacier and Browning was under construction, and we thought this was going to be long day. Once through Browning it was a breeze. As we began heading east on U.S. 2 we quickly realized there was not much traffic, and we could see for miles ahead. Slowly our speeds were creeping higher and higher. Pretty soon we were cruising at 95 mph, we would top 100mph when passing. At Hinsdale I decided to time how long it took us to get to the next gas stop. We went from Hinsdale to Poplar (99.5 miles), gas pump to gas pump in 65 minutes (91.8 mph average). After awhile you get so used to this speed that it doesn't feel that fast at all. Once it becomes necessary to drop down to 65 mph you feel as if you're crawling. The Montana vastness also lends itself to these kinds of speed, it just mile after mile of wheat, and grain fields. The motel in Culbertson had just been renovated from the July 4th flood, so the rooms had all new beds, and carpet. The cost - $20.00.

Day Six - Culbertson, Montana to Floodwood, Minnesota (599 miles)
The speed continued until we hit the North Dakota state line. A speed limit was now posted; 70 mph. The wheat fields gradually gave way to sunflower fields, and once we got east of Minot the topography flattened out significantly. There did not seem to be much to see here, we stopped three times in North Dakota, all for gas. In Minnesota the plains began to give way to some forests, and some lakes (imagine that). U.S. 2 runs through the Chippewa National Forest and provides some good scenery. We did pass over the Headwaters of the Mississippi River where it looked like a creek. As dusk crept up on us, we rode into Floodwood. One motel in town, and plenty of rooms were available.

Day Seven - Floodwood, Minnesota to Houghton Lake, Michigan (574 miles)
Another early rise, and we were on our way. We continued on U.S.2 through Duluth on headed into Wisconsin. At Duluth we caught our first glimpse of Lake Superior. At 7:30 a.m. with the sun in our eyes we were not able to look around too much; we concentrated on the road, and made certain we did not miss the exit for U.S. 2. Once into Wisconsin we stopped at Brule for gas, and breakfast. A greasy spoon truck stop turned out to be quite good. We blew across Wisconsin towards Michigan. Wisconsin offered some really nice roads, although a bit straight. The town of Ashland seemed rather historic, we didn't stop, but it seemed historic. Once in Michigan on the Upper Peninsula we passed through Ironwood. This town seemed to be a busy tourist spot, and I'm sure is a bit busier in the ski season. At Wakefield we broke off of U.S. 2 and continued due east on St. Rt. 28. This road took us into Marquette. After Marquette we began a fifty mile run along lake Superior, catching a glimpse of the deep blue waters occasionally. Through the town of Christmas (now this is a tourist town), and Wetmore we traveled going through the Hiawatha National Forest. This road was in good condition, but straight as an arrow. St. Rt. 77 took us back down to U.S. 2 where we began our descent towards the Mackinac Bridge. Running along Lake Michigan was enjoyable, but we began to pick up much more traffic. My nerves were shaking as we approached the bridge. The last time I was over the bridge was in 1985, and they had nothing but grated deck. I radioed to Steve, "here we go", but to my surprise one lane on either side was paved!!!! What a relief!!! We got stuck behind a slow moving semi going across, but who cared? We stopped on the other side to take a picture, and quickly moved on. Now we were on I-75, it felt as if we were almost home. After a quick 141 miles we stopped at Houghton Lake for the night. A good seafood buffet, and another cheap room made us happy.

Day Eight - Houghton Lake, Michigan to Cincinnati (420 miles)
We left early again, ate lunch in Lima Ohio, and we were home by 2:00.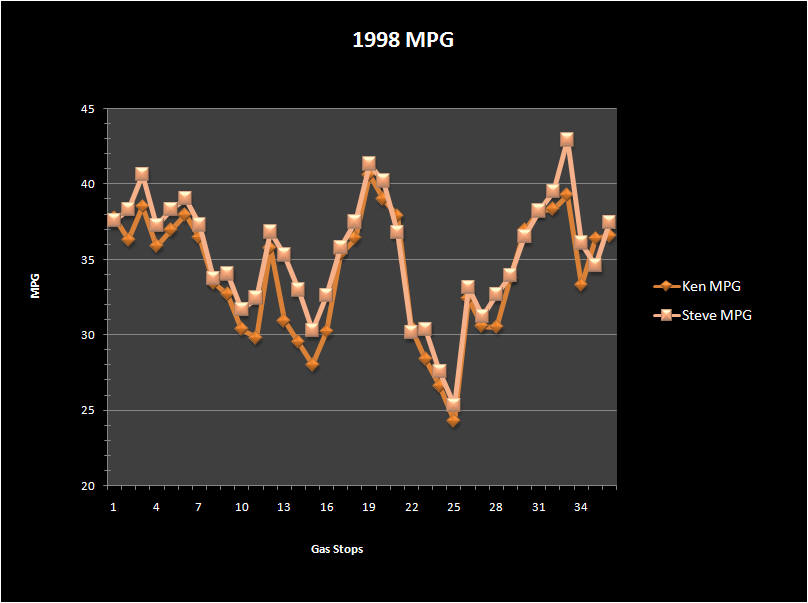 Email me Ken Adams

Home