Mid-Atlantic & Northeast
3091 Miles
This trip was our first major trip on our new bikes. We had been to the Northeast many times, but there were still some roads we wanted to ride, and still some states we had not ridden in. We decided to take a trip through the Mid-Atlantic States with another trip into Maine .

Day One - Cincinnati to Cumberland MD (520 miles)
It was becoming difficult to find a route through Ohio that we had not traveled. I believed we had found a new route that would provide some unique scenery. We started by heading out Ohio Route 32; the biggest drawback to this road is it is heavily patrolled. So we kept it under 70, and cruised along eastward towards Athens ; home of Ohio University . At Athens we stayed on U.S. 50 into Belpre where we picked up Ohio 7 which took us into the old river town of Marietta. Having always wanted to take one of those Alps tours we decided to take some back roads in Ohio that are surprisingly (I would think) similar to Alps country. Just past Marietta we begin our trek through Wayne National Forest. At the town of Fly we turned left, and headed north on State Route 800. This road climbs at a serious rate up to the town of Woodsfield, the " Switzerland of Ohio " as it is called. Woodsfield is the main northern corridor to Wayne National Forest, and once through we began our descent back down to the river. At Woodsfield we turned right onto State Route 26. This road is a serpentine, winding and twisting all the way to Jerusalem . Turning right at Jerusalem we head due east looking for route 145. A left turn on 145 takes us to 148 for a short jaunt before turning north again on route 9. At Jacobsburg we head east on 147 which winds us down to Bellaire and the Ohio River . We jumped onto I-70 for a quick run through WV and into Pennsylvania . We stayed on I-70 and I-76 until exit 9 where we said goodbye to the superslab and ran for awhile on PA 31. This is a road approximately 100 miles in length of exciting road and good scenery. Its many towns and villages are dotted with historic buildings. PA 31 travels over the rolling hills of the Laurel Highlands. Along this byway there are many interesting things to see, places to stop, but the main attraction is the road. Just before Somerset we stopped for a break at Kooser State Park. We stayed on PA31 until we got to the town of West End ; a local road took us to PA 96 to the south and into Cumberland MD. It was getting late so we started looking for a motel on the outskirts of Cumberland . We pulled off I-64 in a stretch that used to be U.S.40. There we found a motel with a brewpub. The place was called Uncle Tucker's, and it contained a brew pub as well as a good restaurant next door. It doesn't get a whole lot better than this. After some taste testing, and dinner we called it a night.
Day Two - Cumberland MD to Haverstraw NY (423 miles)
After our normal 7:00 a.m. departure we start by heading east on I-68. We pick up I-70 at Hancock for a few miles before we decided to try the old National Road for awhile. We began heading east on U.S. 40 just before Indian Springs. This is a grand old road, straight as an arrow for the most part, but chocked full of old roadside buildings that used to beckon tourists years ago. We passed over the superslab often but stayed on U.S. 40 for as long as we could. At Frederick U.S. 40 hooks back up with I-70 and into Baltimore . We took the beltway around Baltimore and got on MD 2 that took us to the Chesapeake Bay Bridge that is U.S. 50 & U.S. 301. Just before the bridge we stopped at Sandy Point State Park for a better view of the bridge. The bridge took us across the bay where hooked up with MD 213. This road, commonly called the Bayside Byway, runs up between the bay and the Atlantic Ocean . It appears flat and featureless to those luckless souls who are intent only on reaching the Atlantic coast's famous beaches. Yet many nice country roads meander along the inlets and tributaries of the much-heralded bay, running through many a small town or village tucked away on the quiet shores. MD 213 runs about 60 miles from Wye Mills in the south up to Fair Hill in the north. Most of the country road twists near, over or alongside scenic bodies of water, both fresh, and salt. Bridges took us over the Chester, Sassafras, and Bohemia rivers, and across Chesapeake & Delaware Canal, part of the Intercostal Waterway. About half way up the peninsula we stopped in the town of Chestertown. This was supposed to be an historic town, but nothing much was open on Sunday afternoon. So we continued up the road in an effort to find some crabs. We made a stop in Chesapeake City underneath a huge bridge, and found the Tap Room restaurant where we pigged out on some of the famous Maryland crabs. Also in Chesapeake City is the famous Bayard House. This looked like a great place to eat, but we couldn't pass up the Tap Room. Continuing on, we jumped on I-495 across a small part of Delaware , and into New Jersey . We had planned on taking some smaller roads in NJ, but we were running behind schedule so just stayed on the NJ Turnpike. The Turnpike is not at all a motorcycle friendly road. The one saving grace was the speed of the traffic. We cruised at 80-90 M.P.H. just keeping with the flow. With the New York skyline off to our right we got onto the Palisades Parkway and followed the Hudson River north. We stopped at one of the scenic overlooks to get a better view of The City. Just into NY we exited the Parkway and traveled north on NY 9W. We passed a decent looking motel (by our standards, which aren't very high), but continued into Haverstraw. We did not find anything better there, so we went back to the Green Motel next to High Tor State Park for the night. We quickly discovered this motel must have been renting rooms by the hour. Several taxis came in and out of the lot while we sat and watched the sights.
Day Three - Haverstraw NY to Boston MA (337 miles)
Leaving our motel we continued north on NY 9W. Following the Hudson River we came upon Bear Mountain State Park. We turned left into the park began an ascent up the mountain. We took a road to a scenic overlook, and had the place to ourselves. Not much tourism happening at 8:00 on Monday morning. The view of the still wide Hudson , and surrounding hills was below us. The road in Bear Mt. St. Park led us back down the other side to the Palisades Parkway . The Parkway hooked us back into NY 9W where tuned once again to the north and into the West Point area. We considered some sightseeing at West Point, but with the roads in Connecticut calling us, we continued on. We intersected with I-84 where we turned east and crossed the Hudson one last time. I-84 took us toward CT. We exited the I-84 at exit 18 where we took NY 164, and NY 64 into CT. Once in CT., we began northward on CT 37. Route 37 north took us to Sherman where we turned on CT 39 up to Gaylordsville. At the intersection of U.S.7 we turned left and again were heading north. The Housatonic River was on our left running between the road and the Appalachian Trail . At Bulls Bridge there is a covered bridge, and Kent Falls State Park looked like a nice spot for a picnic lunch. At Cornwall Bridge we turned left onto Route 4 in the Housatonic Meadows State Park, heading for Sharon , where we took Route 41 to Lakeville. We turned right onto U.S.44 which took us northeast to Salisbury , and Canaan . All of the roads we were traveling on were nicely kept and great motorcycling roads. Traveling southeast on U.S. 44 we headed for the town of Winstead . There, as we were going through town, we experienced a good all fashioned speed trap. The posted speed limit through town was 30 M.P.H. We did not think we were going that fast, but two police waved us over in the middle of town, and proceeded to give both of us tickets for 18 M.P.H. over the limit. We did not argue the point that they could not have gotten Steve who was behind me. Nevertheless the ticket was for a robust $134! We decided not to let this get us down. This was only our second ticket in all of the miles we have ridden. We proceeded on towards Hartford . U.S.44 dumped us into a shady part of town, so we elected not to gas up despite the fact Steve was on reserve. Before we knew it we were headed down CT 2 where there was no gas station to be found. Sure enough the Venture ran out of gas. Fortunately Steve had packed a siphon hose, and after some serious spitting, and gagging we were back on our way. The next exit we came to did not look particularly promising but we exited anyway. After seemingly another 10 miles we happened on a gas station in East Glastonbury just as Steve ran out again. We filled up, and went on our way. We had to get to Boston by 5:00 to hook up with a colleague of mine who was taking us to Fenway Park . Riding through Boston to our Courtyard Hotel in Revere was not particularly fun. The entire downtown area was under construction. It took us some time to get to the Hotel but we pulled up right at 5:00. After quickly getting ready for the game, we jumped into a taxi and headed to the game. We had decided to try our luck on scalping tickets. Our thought was Monday night against the Twins would not be a terribly large draw. We thought we had a coup when we purchased $21 seats for $50. We headed to the beer stand slapping ourselves on the back. Heading to our seats we were stopped and informed the seats we had purchased were in an alcohol-free zone. What? That's right alcohol-free zone! Needless to say we did not sit in our wonderful seats. We stood in the back, and drank our beer. It was a 4-0 nothing game in favor of the visitors, but no one left the park. But by the 8th inning we had spotted some seats down close. We parked ourselves in these seats, and watched the rest of the game. Afterwards we checked out the night life around the park, and had a wonderful time.
Day Four - Boston MA to Jackman ME (355 miles)
Waking up after a night at the ball game was no easy task. Without too much delay we started up U.S.1 towards our destination in Maine . U.S. 1 was unremarkable, and before long we jumped onto I-95 just short of NH, and progressed to U.S. 4 and northward up the eastern side of NH. At Rochester we turned onto State Route 16. This road was in good condition, and had plenty of scenery. As we continued up NH 16 the White Mountains came into view. This view was quickly ruined by the traffic jam as we approached Conway . For about 10 miles up to North Conway, traffic was bumper-to-bumper. We stopped at N. Conway for gas, and continued northward through the White Mountain National Forest. The traffic went away as suddenly as it came upon us. Just north of the town we stopped on the eastern branch of the Saco River for a break. Continuing north on NH 16 we entered the town of Gorham where we turned right onto U.S.2. We have traveled this road a few times in the past, and would gladly do it again. Staying on U.S.2 we turned left in Mexico on Maine 's State Route 17. This road provides beautiful scenery, but the road itself is not in great condition. We blasted up ME 17 until we came upon Mooselookmeguntic Lake where we stopped at an overlook of the magnificent lake. The view included a fantastic view of Toothaker Island in the middle of the lake. As we continued on we reached the town of Oqossoc where we hooked up with ME 4, and headed east into Rangeley. We rode around the northern and eastern shores of Rangeley Lake, and followed the Sandy River down to Phillips. After tuning left on ME146/ME 16 before the town of Salem a car flashed his lights, we naturally assumed a trooper was in the area, so we slowed down. Shortly thereafter we came upon a huge moose on the side of the road. After several pictures of the beast, ME 16 took us on a northerly course to Solon where we turned north on U.S. 201. This road follows the Kennebec River and is very good for motorcycling. Despite some construction on U.S. 201 this was a wonderful ride up to Jackman. In Jackman we looked around for a place to stay. There was not much to choose from, but after careful analysis of the situation we chose the Comfort Motel. The $40 room fit our budget well, and the room was perfect. After a "home cooked" dinner at a local restaurant (Mama Bear's Den Cafe) we parked ourselves on the front porch of the motel and enjoyed a few adult beverages. Two guys working on the road were staying there for several weeks, and provided some good conversation. After awhile some teenagers passed by to shoot the breeze. The talk turned to sports, as it always does, and Steve had to mention that he thought he was fast. One of the teenagers felt he could beat him. The race was on. It ended in a virtual tie, and the teen was amazed when he learned he could not beat a man three months from his 40th birthday. He is sooo competitive.
Day Five - Jackman ME to North Woodstock NH (344 miles)
We started the day looking forward to another great day's worth of riding in Maine . We started out heading east on State Route 6/15, we rode along Long Pond. However, this pond was more like a lake. The scenery remained wonderful, and the road was in decent condition. At Rockwood ME 6/15 takes a southerly course and runs along Moosehead Lake. We were still in the mountains at this point, and passed Big Squaw Mountain on our right. At Monson we bore right and ran along the Piscataquis River . In Abbott Village we stopped at the river for a break. As we continued toward the ocean we began to lose sight of the mountains. Just south of Dexter we picked up ME 7. What a terrible road! This road was in absolutely pitiful condition. We even briefly stopped to see if there was another route that we could take down to Belfast . Finding no alternate route we continued on. The road meets the ocean in Lincolnville and we were ready for lunch. We found a little lobster shack next to the water, and pulled in for lunch. After munching a couple of lobsters we had a decision to make. We had planned to run east up the coast, stop at Bar Harbor, and the night back in Belfast . We had been watching the weather the night before, and realized rain was expected in the entire region. Since we wanted to ride the Kancamagus Highway under good conditions we decided to turn west, and ride the highway while it was still nice weather. We rode down the coast on U.S.1 toward Portland . This is a wonderful road, and packed with scenery. At Brunswick we jumped on I-95 down to Portland . We found U.S. 302 on continued West. U.S. 302 is also a nice road. Just outside of Portland it runs along Sebago Lake . At the northern end of the Lake is the town of Naples. As we rode through the town we noticed another lobster restaurant. We could not pass it up. After another couple lobsters under belt we continued on. As we crossed back into NH we turned on NH 113 which turns into the Kancamagus Highway once it crosses NH16. The highway did not disappoint, It was just as we remembered it from 1994. It was more fun for me this time on the BMW. Turn after turn never seemed to end. As we pulled into N. Woodstock we began looking for a motel. We found a great place to stay. We decided to take a stroll through the town. This town was full of tourists. We found another place that was still serving dinner, and we just couldn't pass more lobster. We only had lobster rolls this time.
Day Six - North Woodstock NH to Milford, NY (348 miles)
Day six started in a steady rain; not the best way to start, but we didn't have much choice. The Green Mountain gaps, unlike the Rocky Mountain passes offer roads less traveled. We started out west on NH 118, probably a good road when it is dry. When we came into the town of Warren we had to make a decision regarding which road to take over Piermont Mountain . We opted for 25A rather than the planned 25C. 25A looked like a better road for riding in the rain. Once over the mountain we hooked up with I-91, and headed south for a short while. The rain was getting heavier when we exited on NH113. As we began to head north and west the rain lessened. Just south of Post Mills we spotted a good spot for a break. It was an old CCC camp that was during the construction of many of the roads in the area. The camp was alongside the Ompompanosuc River . NH 113 turns into NH 66 west of I-89. NH 66 and NH 12 are sweeping roads flowing along riverbeds carved eons ago. Just before NH 66 reaches Randolph the scenery reveals the incongruous mountain scene of two whale flukes. At Randolph we headed south on NH12; Rochester Mountain was on our right. At Bethel we turned right on NH 107 until we picked up NH 100 at Stockbridge. NH 100 is a long valley road we had traveled on in 1997, and parallels the White River. Typical of valley roads, the curves on NH 100 are long and sweeping, with plenty of scenery and views. Fortunately the rain had all but subsided for our jaunt through the Green Mountains . Our ride on NH 100 lasted only about 10 miles before we turned left on NH 73. NH 73 took us over Brandon Gap straight, figuratively speaking, into the town of Brandon . The east-to west route to Brandon is the longer ascent through Brandon Gap (I always like going uphill better). We continued on NH 73 until it dead-ended into the Champlain Canal. There, we took a ferry across to Ticonderoga NY. Once across we headed south on 9W towards Lake George. 9W parallels the lake all the way into the town of Lake George . Knowing Cooperstown was our final destination, and still early in the day we decided to head back up north on I-87 to hook up with NY 8. This road took us through the southern portion of the Adirondacks . NY 8 blends into NY 30 and continues south to Amsterdam . Both of these roads were chocked full of scenery, and in good shape. We passed by the Great Sacandaga Lake, and continued until we hit U.S. 20. There we turned west and headed for Cooperstown . U.S. 20 is mostly 4 lane highway through the rolling hills of eastern NY. It was getting a little late, and we passed some pretty decent motels, but we continued on. We headed south on NY 80 and rode along Otsego Lake . This was a very nice area, and full of vacation homes. As we neared Cooperstown we passed a rather large building with well dressed people walking in. It was an opera house. We began to think there may not be the classical cheap motel in Cooperstown . We were right, we stopped on the south side of the town, and inquired about a particular motel's rate. With no cars in the lot we thought we might be able to strike a deal; no such luck, so we continued on. Just north of Milford we found a motel with a grass parking lot, and no cars in it. We had found the spot. We walked into town, and ate at the local tavern.
Day Seven - Milford, NY to Cincinnati (764 miles)
Once again the day began in rain. We began to develop our plan to go ahead and ride home in one day. We did not want to ride in the rain again the entire day. We rode south to I-88 and headed west. I-88 and NY 17 (essentially an interstate) took us to I-79 in PA. There we headed south. We continued to ride in and out of the rain. Just outside of Pittsburgh the skies opened up in a torrential downpour. I radioed to Steve to pull underneath an overpass so I could get my rain boots on. As lightning struck a mere 200 yards away, Steve discovered his clutch had gone out. We messed around with the diaphragm on the clutch reservoir with no luck. I had experienced some problems with the bike a few years ago, but never totally lost the clutch. After giving up on fixing it we decided to push the bike (uphill), and jam it in first, and I would catch up. It worked. Now the problem; we still needed to stop for gas at least twice to get home. Our first try was going to be near Wheeling WV . I got well up in front and checked out the exit and decided it could be done. I radioed Steve the directions off the ramp. He skillfully came down the ramp, caught the green light and pulled uphill into the gas station. After fueling up we repeated the process. Since he was headed downhill it was easy to get started; but once started he couldn't stop. Shortly we were headed west on I-70. We thought one more time, and we'll be home. While we were patting ourselves on the back we noticed a traffic jam as far as we could see. So we limped down the shoulder knowing the police would probably stop us. After explaining to all the outraged truckers what was going on we saw the light at the end of the tunnel (or traffic jam). No cops to be found. Our last stop in Grove City just south of Columbus was more eventful. There were more lights, and more traffic than the first stop. We pulled it off though, and got on our way home. Steve didn't stop until he reached his garage door. Fortunately he does not live too far off of the interstate. A very harrowing experience.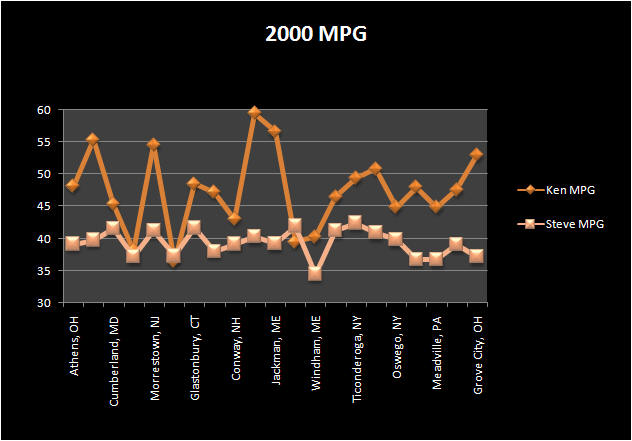 Email me Ken Adams

Home