Hip Hip Ouray
Dual Sport Touring in Southwest Colorado
One of the things we pride ourselves on is the ability take a previously traveled area or route and improve upon it. We did it in Wyoming by traveling there in consecutive years going on the street and then on the dirt, and we also have done it numerous times in the Northeast where every time we go up that way we do it better. We felt it time to do the dual-sport Colorado trip again. Steve and Mike had decided to repeat the 1999 trip having purchased dirt over the past few years. I offered up the use of my truck for a dirt bike to ride in return. They took the bait and we were headed back to Ouray for a repeat of 1999.
Day One - Cincinnati to Oakley KS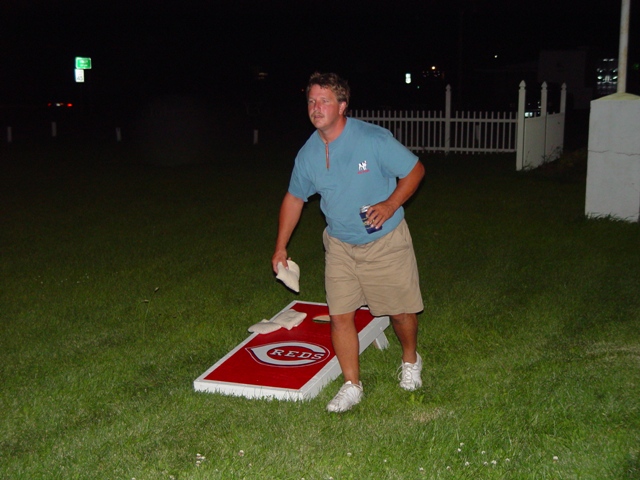 We pulled our bikes out again on Don's trailer. We left around 8:00 a.m. from Steve's house and pulled into Oakley KS around 8:30 p.m. local time. We had called ahead to reserve a room at the Kansas Kountry Inn not wanting to get stuck on a Friday night. Mike drove the entire way which we couldn't have appreciated more. Driving across the plains has to be the worst. So we pulled in and unloaded the bare necessities which included the corn hole boards. We set them up under some lights and played for a few hours before calling it a night.
Day Two – Oakley to Ouray
After stopping for gas and coffee first thing in the morning we headed west on U.S.40 through Sharon Springs KS, Cheyenne Wells CO, and Kit Carson CO before we turned left at Aroya and continued west on C94. This is the road we tried to take in 2001 when we realized there were no services for 70+ miles and we didn't have enough gas in our tanks to make it. This time, with gas in the tank, it was not a factor and we pushed on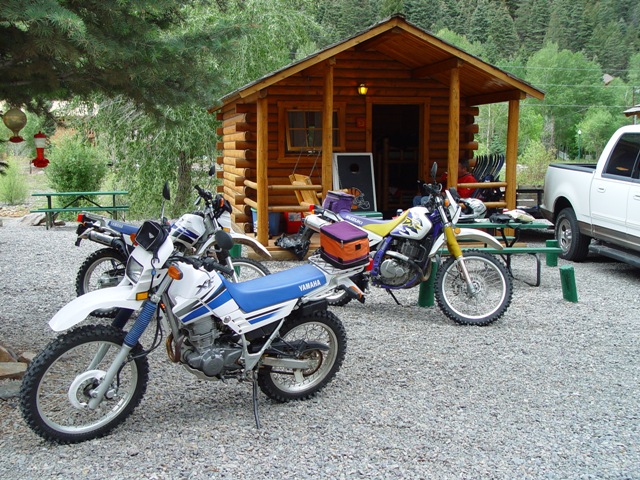 across the flat terrain marked by an occasional and slight elevation change as we crossed a creek. Before we knew it we were in Colorado Springs where we stopped for a quick lunch and continued on. We planned to pick up some front sprockets for the bikes in Gunnison CO on U.S.50 which forced us on this route rather than the, perhaps easier, I-70 route. When we got to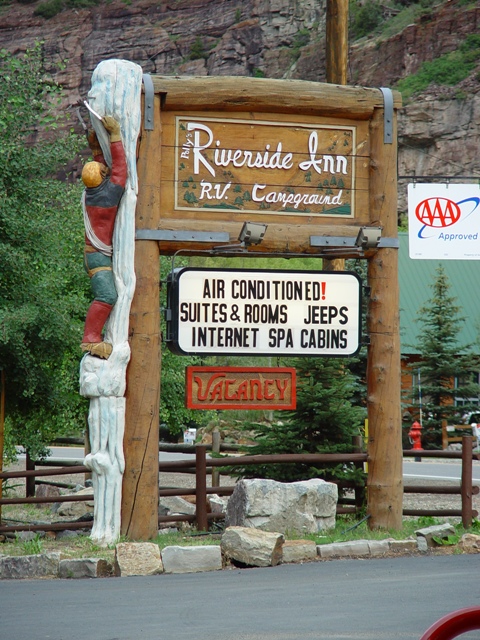 Gunnison we realized the motorcycle shop we had called was actually in Montrose CO. So, as it turned out we didn't really need to go across U.S.50 but it wasn't that difficult to drive. We stopped in Montrose at the Davis Service Center and picked up our sprockets with fewer teeth and continued south on U.S.550 and we were in Ouray before we knew it. We unloaded at our lodging site, Riverside Inn & Cabins, where we had a camping cabin waiting for us. We played a couple of games of corn hole before heading to dinner. Corn Hole is a game we like to think originated in Cincinnati but we really don't know for sure. We walked down the Uncompahgre River trail to the Timber Ridge campground where they serve excellent home cooked meals. This would be the first of many trips to the campground to eat. After dinner we played some more corn hole and got ready for the ride the next day.
Day Three – Alpine Loop [1st Day of Riding
]
The temperature in Ouray was below normal which provided some comfortable sleeping. We had the heater on in our cabin and it was quite comfortable. We started early and walked down the river trail to the Café at the Timber Ridge campground for breakfast. After a breakfast burrito I could hardly finish, we began walking back to the bikes. Along the trail back we heard a thunderous clap and caught a glimpse of a huge rock slide on the other side of the river. Just below the rock slide and the steep cliffs sit a number of homes that are seemingly quite often in harm's way. There didn't seem to be any damage and we continued back to our cabin and geared up for the day's ride. We began by riding south on US550, the 'Million Dollar Highway' through town and into the set of curves we have all ridden many times and that I enjoy so much. Once through town the road rises quickly offering nice curves and in between great views of the town. Once on top the road follows the narrow shelf cut through the canyon. It almost takes ones breath away as you look over the edge of the road that is without guard rails and drops off hundreds of feet. Finally, we got to the entrance of the loop and exited the highway and briefly stopped before we all continued on driven by a healthy dose of adrenaline and anticipation. There is no evidence of any other bikers ahead of us as the staging area at the trail head was vacant, but this won't be the case when we return. We blasted up the loop trail getting a feel for our bikes. Mike and Steve had ridden theirs in the past but I was borrowing Steve's and it was the first time I had thrown my leg over the saddle. It felt pretty good it seemed very familiar to me as I rode up the trail. In what would become a recurring theme for the rest trip the trail brought back memories of our first trip on the loop in 1999. It seemed like deja vu all over again. We stopped for a brief moment to catch our breath at the Poughkeepsie Gulch turn off. Starting on Engineer Pass is a fairly aggressive way to start. It's not really all that challenging but the loose rocks force us to stand up and really work on our balance. No problems were encountered; we reached Engineer Pass with ease. Up on Engineer Pass we goofed around a little with snow that remained on the ground. We stopped at another spot on the way down where we had been in the past. It was still cool and we all had several layers of riding gear on and were quite comfortable. We reached the bottom of the pass and stopped on Henson Creek near Capitol City and was still before noon. Next we decided to hit another old favorite; Nellie Creek trail. We blasted up the trail stopping to relish in each of three major water crossings. None were very deep but a couple of them challenged us. Of course, if one touches with their feet - you lose! Back onto the loop we continued toward Lake City where we ran into a brief but heavy rain storm (imagine that). We stopped for a bite eat on the front porch of the Cannibal Grill. After the rain we continued back on the southern portion of the loop. The loop follows the northern shore of Lake San Cristobal, along the lake fork of the Gunnison River, and the base of Whitecross Mountain (elevation 13,542'). We went up and over Cinnamon Pass which is probably my favorite pass of the trip. On the backside was the old ghost town of Animas Forks. Lots of history in this town that was founded on 1873 by miners building cabins near their claims. We continued up Denver Hill and because we still had plenty of daylight left we took a detour up Mineral Point Gulch. This road was not challenging but had some nice views of Tuttle and Engineer Mountains. Back down the gulch we quickly came back to where we started the day. Dinner at Timber Ridge, and we were set for the night.
Day Four – Telluride [2nd Day of Riding
]
We decided to try a different place for breakfast and went to our old spot from 1999; the Silver Nugget. Our plan for the day was to ride the Ophir Pass over to Telluride and then down Imogene. We missed the Ophir Pass last time in favor of Black Bear Pass. One the owners at the Timber Ridge campground had told us Black Bear was closed so we put this plan in to place. We rode US 550 south almost to Silverton where Ophir intersects the highway. Ophir was very easy except one spot where I might rate it slightly more difficult than that, but it did posses some of the best scenery we had come across. It was early in the morning and the sun was shining so maybe that has something to do with it but it was an enjoyable ride. Ophir Pass dead ends into C145 where we headed north to Telluride. We made a detour to the Alta Lakes area east of C145. We passed the old Alta Mine boarding house and the adjacent office on our way up to the lake. There is no difficulty here either, all of the roads are fairly wide jeep roads. Once up at the lake there is some pretty nice views with the mountains that surround the lake giving a very real sense of seclusion. Back down the way we came we headed into Telluride and stopped at Smuggler's Inn for lunch. During lunch the daily rain started, a little earlier than normal. By the time we finished it had mostly stopped and was just spitting. We caught Imogene on the north side of town and began our trek up and over. The climb from Telluride up to Imogene isn't nearly as difficult as the opposite side. We stopped at the old Tomboy mine on the way up and saw our newly made friends from our campground in their Jeep. The rain was picking up a little bit as neared the summit. After a brief stop we started back down the other side and embarked on what was probably one of the more difficult and challenging parts of the trip. One can always make it down a hill but often times the risk and falling and getting hurt are higher as is the case of descending Imogene in the rain. Fortunately, it was uneventful but the adrenaline was pumping. Once we hit Camp Bird we knew we were getting close to C361 and back into Ouray. The rain was picking up and would downpour before the day's end.
Day Five – Yankee Doodle [3rd Day of Riding]
After a little strategy session the night before we decided that since we like Imogene so much we would assault it from the Ouray side, up and down, before we did Yankee Boy Basin and Governor Basin. After the Silver Nugget breakfast we headed up Imogene. The weather was great; no rain in sight, only bright sunny skies with the temperature fairly moderate given the altitude. We drove up Imogene hard making only one or two stops to soak in the scenery. I don't think we saw more than one or two jeeps the whole way up. I remember someone making the observation there weren't very many motorcycles either. We didn't see many but my thinking was that motorcycles travel so fast relative to Jeeps and ATVs that the chance for us seeing them is fairly limited. At any rate we made it to the top of Imogene just before 9:00. We stayed at the top longer than normal talking with some Jeepsters from Texas. On the way down it was much less risky this time; there was no rain and we had one more day of riding under our belts. At Camp Bird this time we headed west towards Governor Basin. Mike and his Dad rode this last time but Steve and I missed this portion. The first portion of the trail is a little tricky as there is lots of loose rock and switchbacks and a very narrow path. At the top is a nice view as we sat at the base of Mendota Peak. We came back down and continued west towards Yankee Boy Basin. This is one of my favorite trails in the area. It is easily one of the more difficult trails we rode but there aren't any steep cliffs that would make it a risky trail, it simply is difficult, but if one can't make it there is not much downside. Just when you think you've made it up the hard part you realize there is much more to go to the top and it's much more difficult. We rode hard and now that it was well into the day, about 1:00, the trail was becoming a little crowded making it that much more challenging. So, we rode hard and fast up to the summit and got off the bikes for a rest and to take some pictures. As we sat there a Rubicon Jeep pulled up and older couple got out and we struck up a conversation. We came to find out they had watched us climb the last portion of the trail and thought with the speed and agility we rode up with we were on the younger side. They were quite surprised to see three middle-aged guys sitting by the bikes. This made us feel pretty good. After our helping of humble pie we headed back down and into Ouray. Next, with time on our hands, we decided to head down to Silverton. We hit a little trail just outside Silverton but it didn't appear to go anywhere so we went back out to the highway and into Silverton. We stopped at the Grand Imperial Hotel and Saloon where we had, of course, been before. This time, though, we met Grumpy the owner who was indeed not grumpy at all. We had a couple of brews and some bar food and decided to head back. We went up C110 and over Corkscrew Gulch and back onto US550. The trail begins just above Gladstone where there are some remnants of an old mine. The start of the trail is steep and has many switchbacks as we get above the timberline. Once there, we can see a small seasonal lake that lies at the summit of roughly 12,200 feet. The pass splits between the three Red Mountains #1, #2,and #3. This pass is where we first noticed a microwave tower on one of the surrounding peaks. In this case it was McMillan Peak that had the tower. We were fairly certain these did not exist during our last visit in 1999. As we descend back down we run into a number of abandon mines and dumps they left behind. A nice view of US550 can be had here as we get to the bottom. The trail leads into Ironton Park and back onto US550. We called it day, and headed to the Timber Ridge for dinner.
Day Six – Poughkeepsie [4th Day of Riding]
At the Silver Nugget we ran into the same two riders we had met the day before. We told them we were headed up Poughkeepsie Gulch and they were skeptical to say the least. They had ridden down Poughkeepsie a couple of days earlier in the rain had some horror stories to tell and to make certain we knew they did not think we would make it. Mike had made it up in 1999 but I was not able, so there was even some skepticism on our side as well, if no one other than me. I was the one who was going to have to make it up on the 650. So, we headed to Poughkeepsie and it was challenging just getting to the challenging part. There was a creek bed that had swollen from the rain that provided us, me in particular, with some difficulty. The trail doesn't look all that tough. It's about 300 yards in length a third of which is fairly steep, but not anything steeper than we had already been on, with large rocks in the path that are loose. On either side of the path a creek bed and large ruts preventing anyone from bypassing the loose rocks in the path. Mike went first and started up the path slowly but surely. I waited a few minutes before it was my turn. I got a good run and made it a few hundred feet before I started slipping on the loose shale rock and as I did so dug a hole deeper and deeper until I was stopped. Seven years ago I tried on a KLX650 with tires that were not full knobbies and everyone attributed my failure to the tires. Well this year I was on a similar bike with full knobbies and made, as best I can recall, to the same spot. I'm not saying it can't be done on a 650 but it is well beyond my capabilities. The bike is just too darn heavy and it just digs a hole. So, after I picked up the bike I was done. Needless to say, picking up a 300 lb bike by yourself at 10,000 feet of altitude takes a lot out of you. Steve said the heck with it and we waited to see if we could catch a glimpse of Mike and determine his progress. Steve eventually went up to help and turned him around having not made it all the way up. I believe Mike could have made it, but his incentive must been diminished when he realized we weren't going to make it. We went back down Poughkeepsie to the Alpine loop and south on US550 and went back over Corkscrew Gulch. We had decided to go around and back to the top of Poughkeepsie. Once at the top of Corkscrew we headed over Hurricane Pass and down by Lake Como and began looking for the top of Poughkeepsie. Neither Steve or I had been here so we followed Mike who was trying to remember some landmarks from 1999. We went down some very steep cliffs to the point where we were wondering if we were at "The Wall" at the top of Poughkeepsie. Finally we came upon it and there was little doubt left about it. We were all thinking what we would have done if we had made it up the trail only to encounter "The Wall". We sat there for awhile before going back the way we had come which was no easy task. We got to back to Lake Como and headed over California Pass and down into California Gulch before going through Placer and Picayne Gulches. California Pass is one of the highest at 12,900 feet. The California trail is an easy one but does provide good scenery. We were going down the Picayne Gulch trail towards C110 so as we approached what would be considered the trail head, the grade was very steep and we thought it would be fun going the other way, as we made a mental note for future reference. We made it down into Silverton and stopped at the Silverton Brewery for lunch. It was already getting long in the day when we left Silverton but there was no rain in sight and plenty of daylight left so we decided to try Brown's Gulch. We had done this before as well and knew it was not difficult but we also knew it provided some nice scenery particularly of the east side of Black Bear pass. It was what we remembered and we stopped along the way to soak up the views. Back on US550 and close to Ouray I decided at the last minute to run up the campground area called the amphitheater to see what that was all about. As we rode up the trail we found significantly more than we had anticipated which was fantastic. We had to work a little bit to get to the top and when we got there the name that had been chosen became evidently clear. The park area is surrounded by 10-12,000 foot peaks in a semi-circle creating an amphitheatre feel. We had a treat for dinner, we went to 736 Main Street where a local entrepreneur had opened a Japanese style restaurant. The sushi we had was surprisingly good. The place was packed so we just ate right at the bar. It never ceases to amaze how easy it is these days to eat sushi almost anyplace in the U.S.
Day Seven – The Gulches [5th Day of Riding]
Fortunately we didn't meet the riders at breakfast who said we'd never make it up Poughkeepsie, so I had the pancakes rather than the crow. We were down to one day, so we hoped it would be a good one and indeed it was. We started by going over Corkscrew which we hadn't done this trip from US550, we had only come the other way. We went up and over before 9:00 and stopping at the summit but we were quickly down to Gladstone well before the day got too old. We started Gulch day be heading up Minnehaha Basin. We kind of doubled along the creek and we could see the road we came down to Gladstone on. There were some old abandon mines along the trail; the Red and Bonita, Adams (how appropriate), and the Pride of Bonita. Everything was closed off and we didn't spend much time there. Back down C110 headed south we turned right and up Prospect Gulch. This may have been the best one of the named gulches of the day. The trail just kept climbing, getting narrower all the time. The gulch goes up between Red Mountain #3 and McMillan Peak which gave us a better view of the microwave tower. Looking back we could see the whole valley below us with C110 running through it. We turned around came back the same and continued south on C110 eventually turning right again up a gulch with no name (wasn't that a song by America?). This was a nice ride for not having a name; some snow met us at the summit. Next up was Niagra Gulch. There was an old mine a short way up and the road was blocked. We thought about going around but thought better of it and went back the same way. We went into Silverton and grabbed a bite to eat at the Best of West Restaurant and Bar. We stayed on C110 and headed north on the east side of town. I always struggle with C110; it runs north and south into and out of Silverton; it's a U-Shaped road that runs from Gladstone on the northwest and Animas Forks on the northeast side. So we headed toward Animas Forks and went up the Minnie Gulch. Two old fairly large abandon mines are on this trail, the Esmeralda and the Kitty Mack. The Kitty Mack sits of on a little shoot off of the main trail. We stayed right and went to Esmeralda first and then hit Kitty Mack on the way down. The day had turned out beautiful it had warmed up and we were shedding clothes. After Minnie we decided to pass on Eureka in favor of exploring a little off-shoot road we had noticed on the map as well as our trip down Picayne the day before. The trail took us off of the Picayne main road less than a mile from the trailhead. This was a great road except for the fact it did not lead anywhere. The map showed it reconnecting but we rode as far as we could and didn't see any way that could connect. We turned around and went back the way we came which just fine with us. Back up Picayne and over Placer Gulch we were at Hanson Peak and got a little turned around and found ourselves at the Sound Democrat Mill. We got back on California and Hurricane and before we knew it we were headed down Corkscrew and faced with the thought of having to start packing and returning.
Day Eight & Nine
We made it back in two days.....not much to tell here.
Email me Ken Adams

HOME