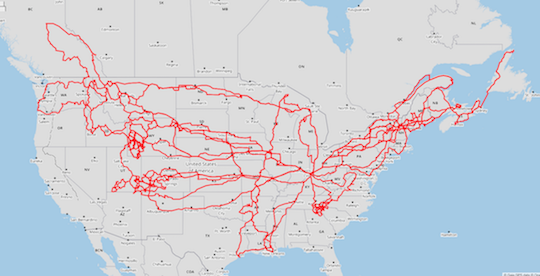 2017 - Olympic Riding
Street trip to the Olympic Peninsula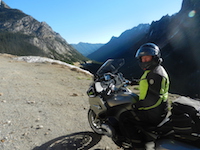 2016 - Roaming Wyoming again
Dirt trip back to Pinedale. Mostly a repeat from 2004.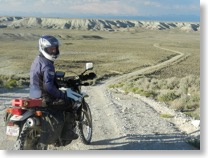 2015 -
Der Große Sechzig Motorradtour
Street trip to Colorado and Utah for Winzi's 60th birthday celebration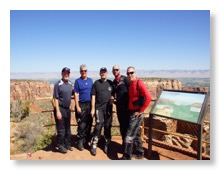 2014 - Old Man River
Street Trip to the Very Northern tip of Michigan and south to New Orleans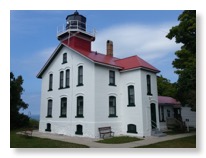 2013 - Latitude 53

Street trip to the Northwest including British Columbia and Alberta Canada.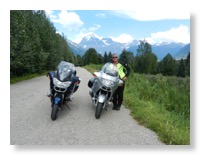 2012 - Lewis & Clark Condensed

Street trip west through WY, MT, ID, OR, and WA trying to follow the Lewis & Clark trail as much as possible.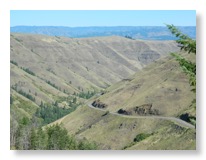 2011 - Ouray - Take Three

Dirt bike trip to Ouray with Mike and his family members.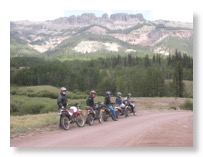 2010 - Utah Utopia [dirt version]

Riding in the dirt around Moab. All the famous trails like White Rim and Kane Creek. We also rode down in the Monticello area.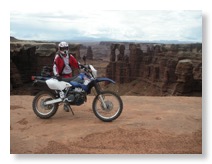 2009 - Utah Utopia
Street trip through the National Parks in Utah and back home through New Mexico and Kansas.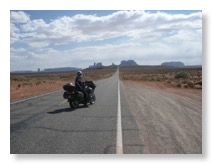 2008 - Big Horn, Big Sky, Big Dirt
Dirt trip to Northern Wyoming and into southern Montana. Also in the Cheyenne area.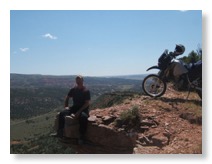 2007 - Gaspe Partie Duex
A re-do of our 1997 trip to the Gaspe peninsula but this time riding on the North shore of the St. Lawrence to get there and also a tour of Prince Edward Island.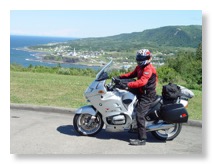 2006 Hip Hip Ouray

Dirt trip back out to Ouray where we tested our skills after not being there for seven years. Mike goes along again this year.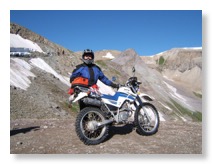 2005 The Rock

We rode to Nova Scotia, up the Cabot Trail where we got on a ferry to Newfoundland. Up the Viking trail and back down.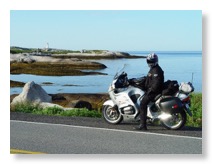 2004 Roaming Wyoming [dirt]

We followed up 2003's Wyoming trip with one on the dirt on KLRs. The area we rode was around Pinedale and also a couple of days in the Flaming Gorge area.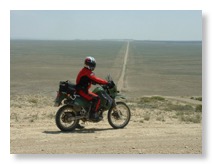 2003 Roaming Wyoming

We rode in Wyoming nearly the whole time, based in Lander. We rode Wind River Canyon, Flaming Gorge, Yellowstone and the Big Horn.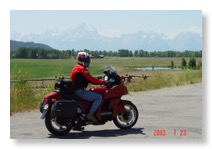 2002 Appalachian Twist

Riding in the Southeast is always fun, and this year we stayed in Maggie Valley, Little Switzerland, Bryson City, and also at Two-Wheels-Only (TWO) resort in Suches GA. We did not ride many miles this year but the ones we did ride were very crooked.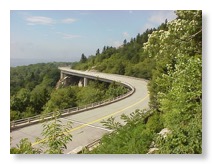 2001 Southwest Colorado Extravaganza

We rode back out west in the Colorado area after our 1999 dual-sport trip. With greater knowledge of the area we felt better prepared. We focused in the Southwest staying multiple days in Lake City and Ouray.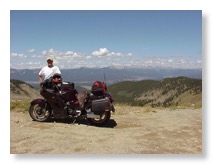 2000 Mid-Atlantic

This was a street trip through the Mid-Atlantic states ending up in Jackman ME.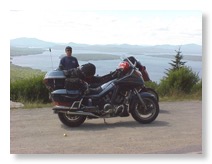 1999 Dual Sport in Southwest Colorado

Our first dual-sport trip. We fell in love with the area in 1995 and we wanted to come back and see it from a different perspective.


1998 Glacier National Park

We rode to Glacier National Park and back home across the northern plains, and the northern Mid-West including Michigan's Upper Peninsula.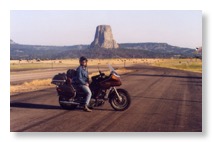 1997 Gaspe

Our first "exotic" trip. We read about Gaspe in Rider Magazine and felt the need to see it.

1996 Southeast

The Southeast and the wonderful roads. We did this one before we had much more than maps. We rode the BRP and many other great roads.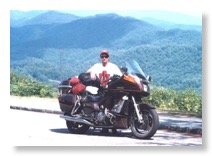 1995 Big Sky

Our first big trip out west together. We tried to see as much as possible and this is the year we discovered Ouray.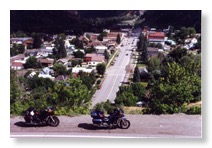 1994 Northeast

We rode together with Mike this year and was our first experience in the Northeast. We focused on the ME coast.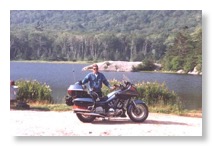 1993 Niagara Falls

I was in between jobs and didn't have much time for vacation, so we had to make use of a business trip. Not much but we logged some scenery in an abbreviated trip.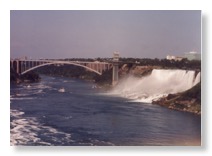 1992 Lone Star Blues

Our first official trip. I don't know what possessed us to set Galveston TX as a destination but we did.